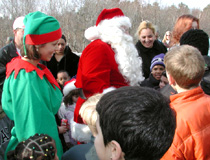 Santa Greets Children at MAC
The Crickit
Education Outbound and Manchester Athletic Club sponsored a special Santa Helicopter event on Saturday, December 20th.
Santa Claus arrived by helicopter, piloted by MAC owner John Donovan, with a sack full of gifts and was greeted by over 100 smiling and excited underprivileged children from the North Shore area. Education Outbound, with the help of many generous donors, arranged for each child to receive their own special present. the children range in age from 2 to 17 years old. Some of the children live in foster care and some live in children's shelters-the holidays are a particularly difficult for these young children. Carla King with the Department of Social Services has helped Education Outbound select all the gifts and recruit the children who will participate.
The children arrived at 1:00 PM for chocolate milk, cookies and games. Santa landed at 1:30PM and after he greeted the children he led the group into the club. Santa visited with the children individually, and gave them their gift. At 3:00 PM Santa flew away in the helicopter.
Megan Connolly founded Education Outbound in September of 2000.
Education Outbound is a non-profit organization that provides field trips for children's homes and schools in need in the Massachusetts area.
With recent cut backs in educational funding, many school districts have decided to eliminate field trips all together. Education Outbound is designed to enhance the children's educational experiences by introducing them to places and special things they might never be able to see. The goal of Education outbound is to have an impact on underprivileged children, positively influencing their lives. More information is available at www.educationoutbound.org.
In addition to this fourth Holiday event, Education Outbound has organized, funded and implemented 45 field trips, affecting nearly 1,500 underprivileged children.

If interested in contributing to this special Education Outbound event, checks may be made payable to Education Outbound, and sent to: Megan Connolly, Education Outbound, PO Box 333, Manchester, MA 01944.